The UConn Podcast Symposium was an event hosted in February 2021 by Vinayak Mishra and Mukund Desibhatla with plans of getting students excited about podcasting and gaining confidence in their own creative ventures. During the event, the hosts explored how their original podcast, Agents of Change, was engineered and the many hurdles they had to overcome.
The UConn Podcast Symposium is an interdisciplinary Honors event that aims to bring together exemplary professionals and students involved in various research-based and creative endeavors. In light of the tumultuous and divisive COVID-19 pandemic, the purpose of this event is to mobilize the UConn community and foster authentic and intellectual conversations. From student-driven keynotes to interactive panels, UConn students learned about accessible resources and transformative learning opportunities to tailor their own story of leadership. During the event, professionals in the field were also present to provide their insights into creating a successful podcast. Learn more about them here.
Interview with UConn President Katz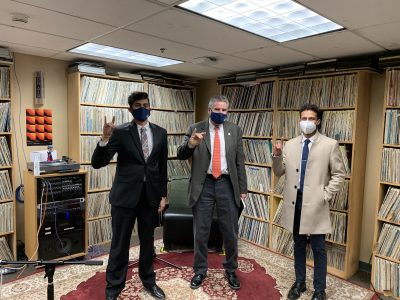 This project was funded by the UConn IDEA Grant.