The UConn Podcast Symposium was an event hosted in February 2021 by Vinayak Mishra and Mukund Desibhatla with plans of getting students excited about podcasting and gaining confidence in their own creative ventures. During the event, the hosts explored how their original podcast, Agents of Change, was engineered and the many hurdles they had to overcome.
The UConn Podcast Symposium is an interdisciplinary Honors event that aims to bring together exemplary professionals and students involved in various research-based and creative endeavors. In light of the tumultuous and divisive COVID-19 pandemic, the purpose of this event is to mobilize the UConn community and foster authentic and intellectual conversations. From student-driven keynotes to interactive panels, UConn students learned about accessible resources and transformative learning opportunities to tailor their own story of leadership. During the event, professionals in the field were also present to provide their insights into creating a successful podcast. Learn more about them here.
Interview with UConn President Katz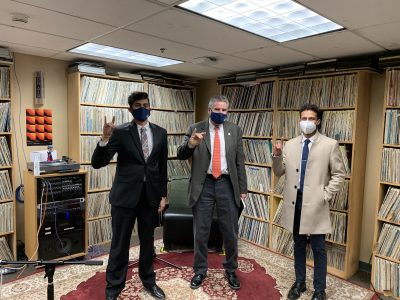 Upcoming Events
May

15

Anti-Racism Engagement Study: Participants Needed

12:00am

Saturday, May 15th, 2021

12:00 AM - 11:59 PM

Stamford Campus https://uconn.co1.qualtrics.com/jfe/form/SV_71YNXobRM5DP8hg

Are you between the ages of 18 and 25 and enrolled as an undergraduate student at UConn? If so, you are invited to participate in an online survey on the effect of anti-racism engagement on psychological and academic adjustment during the coronavirus pandemic. Upon completing this survey, you will have the chance to enter your email address into a raffle for one of ten $50 prepaid Amazon e-gift cards! The online survey is anonymous and will take 15 minutes to complete. Please click the following link to complete the survey: Anti-Racism Engagement Survey.



Anti-Racism Engagement Survey

Principal Investigator: Annamaria Csizmadia, PhD. Dept. of Human Development & Family Sciences

Student Investigator: Sabrina Uva

UConn IRB# X21-0049

Contact Information: sabrina.uva@uconn.edu.

More

May

15

UConn Summer Horseback Riding Lessons

12:00am

Saturday, May 15th, 2021

12:00 AM - 11:59 PM

Storrs Campus Horsebarn Hill Arena

REGISTRATION IS OPEN!

The University of Connecticut's Animal Science Department offers a summer horseback riding program to the public with something for everyone!

Dressage, Hunt Seat, Polo, Western riding lessons and Trail Riding are open to adults and children including community members who meet the minimum age and skill level requirements.

Visit

http://www.uconnsummerriding.uconn.edu/

to register today!

Contact Information: Alena Meacham alena.meacham@uconn.edu

More

May

15

Personal Finance Workshop

1:00pm

Saturday, May 15th, 2021

01:00 PM - 02:00 PM

Other via Zoom

Email UConnBusinessProfessionals@gmail.com for the link!

Contact Information: heather.monroe@uconn.edu

More
All Events »
This project was funded by the UConn IDEA Grant.