The UConn Podcast Symposium was an event hosted in February 2021 by Vinayak Mishra and Mukund Desibhatla with plans of getting students excited about podcasting and gaining confidence in their own creative ventures. During the event, the hosts explored how their original podcast, Agents of Change, was engineered and the many hurdles they had to overcome.
The UConn Podcast Symposium is an interdisciplinary Honors event that aims to bring together exemplary professionals and students involved in various research-based and creative endeavors. In light of the tumultuous and divisive COVID-19 pandemic, the purpose of this event is to mobilize the UConn community and foster authentic and intellectual conversations. From student-driven keynotes to interactive panels, UConn students learned about accessible resources and transformative learning opportunities to tailor their own story of leadership. During the event, professionals in the field were also present to provide their insights into creating a successful podcast. Learn more about them here.
Interview with UConn President Katz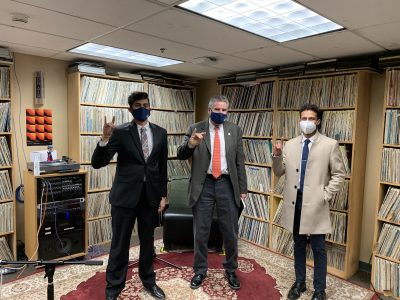 Upcoming Events
Mar

28

Art Students' Exploration - Tree of Life

12:00am

Tuesday, March 28th, 2023

12:00 AM - 11:59 PM

Other Downtown Storrs

Abrahamic Programs support peaceful co-existence and regional academic integration in the MENA region and provide an alternative framework for productive on-campus programing and dialogue at the University of Connecticut. Along with the School of Fine Arts, Humanities Institute, College of Liberal Arts and Sciences, Human Rights Institute, Asian and Asian American Studies Institute, Ballard Institute and Museum of Puppetry, The William Benton Museum of Art, UConn Hillel, and the Mansfield Downtown Partnership, Abrahamic Programs is proud to present The Story of the Tree.

The Story of the Tree is a semester-long exploration of the Tree of Life in Judaism, Christianity and Islam through art exhibitions, walking tours, performances, and lectures. From March 20th through May 6th, check out the Art Students' Exploration - Tree of Life Student Art Exhibit featured in the windows of businesses in Downtown Storrs. For more information, visit:

https://abrahamicprograms.uconn.edu/arts-culture/2023-the-abrahamic-story-of-the-tree/

Contact Information: global@uconn.edu

More

Mar

28

CPT/Pre-Completion OPT Workshop (In-Person Hartford)

9:00am

Tuesday, March 28th, 2023

09:00 AM - 10:30 AM

Hartford: Graduate Business Learning Center GBLC room TBD

This session is for F-1 students who will do an internship or work off-campus before graduating, or for students who have internships and clinical placements as part of your academic curriculum. All internships, work and placements off-campus must be authorized through Curricular Practical Training (CPT) or Pre-Completion Optional Practical Training (OPT), even if unpaid and required for your class or program. If you are considering a future off-campus work opportunity or placement, you are required to attend this workshop before you apply for CPT or Pre-Completion OPT with ISSS. Advance registration is required for in-person workshops and seats are limited.

To register for this workshop please sign up on the link below.

http://www.icworkshops.uconn.edu/

Contact Information: neena.kapoor@uconn.edu

More

Mar

28

Emotional Empowerment

9:00am

Tuesday, March 28th, 2023

09:00 AM - 10:00 AM

Storrs Campus Group referral

Learn strategies (things you can DO) to address stress and difficult emotions in this peer group setting.

Each session will focus on a theme, such as visualization, working with negative thoughts, and more.

Group therapy offers unique benefits to students including:

Allowing students to find more clarity about current challenges with the help of a support system and a knowledgeable counselor.

Providing the opportunity for students to share and listen to the experiences of other group members.

Creating a safe space where members can give and receive feedback, support, and validation from others who have had similar experiences.

Allowing students to have their own journey in the group, which is enriched by the support and experience of others.

To get started with a group referral, please contact SHaW at 860-486-4705

More info about SHaW's Group Therapy sessions:

http://studenthealth.uconn.edu/mental-health/group-therapy/

Contact Information: 860-486-4705

More
All Events »
This project was funded by the UConn IDEA Grant.